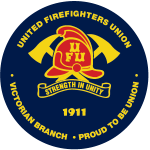 MFB firefighters are working as normal this weekend – after a week that devastated Victorian firefighters and the latest attack by the State Government.
Today's Herald Sun falsely claims that MFB firefighters will not be available after instructions from their union.
United Firefighters Union secretary Peter Marshall says this is simply not true.
"Firefighters will be rostered as usual 24/7 across all MFB stations this weekend.
"As usual they will be available for recall or to form strike teams if they are needed.
"At issue is a new scenario roster which has been sprung on us without warning or consultation, and which we simply don't understand.
"It seems to be an industrial wedge to demonise firefighters. We want this clarified.
"There is tried and proven system in place to protect the community that has operated for the last three decades as well as system of recall in the event that extra resources are needed.
"One can only ask why the MFB wants to introduce a new system that no one understands on the eve of the heatwave.
"We are also concerned for the proper management of firefighter fatigue."
Last weekend saw a high number of firefighters unable to work after the suicides of two colleagues within 72 hours from the same fire station. Funerals for the two veterans were held last Friday (11/12) and Monday (14/12).
Mr Marshall says sometimes the job is overwhelming.
"Firefighters suffer extraordinary levels of Post Traumatic Stress Disorder and much of their work is dangerous, dirty and confronting.
"It is unfortunate that the Andrews Government has delayed funding for firefighters suffering PTSD to get access to a unit at the Austin Hospital.
"The need is great, and urgent.
"The sudden loss of two friends recently had a huge impact on the firefighting community.
"This came on top of the stress of a very busy time of year, the uncertainty of long-running negotiations for a new workplace agreement, and repeated political attacks and misrepresentations of their claim.
"Morale is at a very low level but a full complement of firefighters will be on duty 24/7 throughout the festive period to protect the community.
"With an extreme fire season predicted, these factors add to an already challenging job.
For information
Peter Marshall, secretary, United Firefighters Union 0419 127 004